To complement our demolition operations, ATR also offers a range of specialised services that can be used in connection with, or as a separate part of your project. These services include:
Restricted Access Plant
As technology plays a greater role in the economy, ATR has invested heavily in specialist, remote controlled robotic plant to complement our existing fleet. The addition of robotic plant allows ATR to satisfy client demands for difficult sites where width &/or weight restrictions prohibit normal plant operation. Some key features of the robotic plant include:
Awesome power to weight ratio
Restricted access specialist

Fits most lifts & is ideal for multi-level buildings
Can pass through standard doorways & narrow passages
Operates in confined spaces (no fumes)

Electric powered

No fumes
Meets environmental requirements
3 phase powered
Can operate on generator (min 40KVA)

Lightweight for work on suspended surfaces

Can eliminate the need for falsework decking
Reduced point loading
Outriggers to disperse loads

Remotely controlled

Keeps operators & workers free from hazard zone

Hammer, crusher & bucket attachments
Propping & Needling
Many construction projects which involve partial demolition or alterations can require propping &/or needling.
ATR also offers back propping to engineered drawings or other client designs. Needling for brick work where new openings are being created for walls or windows is another service ATR are able to offer.
We also stock generous amount of acrow props of varying sizes, that are available for ongoing hire.
Truncations
Post Tensioned (PT) tendon truncation is necessary when there is a requirement to terminate a PT tendon. A new anchor point is required when the tendon is to be cut for such things such as a new opening in a concrete slab for stairs, lift wells etc.
Post tensioned concrete is used in a wide range of building & civil structures where its improved performance can allow longer spans, reduced structural thicknesses, & material savings compared to simple reinforced concrete.
Demolition or the cutting of penetrations through this type of construction, requires specialist knowledge from the contractor to retain the structures integrity & to avoid the dangerous discharge of energy once the tendon has been cut.
ATR is able to provide the entire process from the slab scanning, to identify where the tendons are in the concrete, to the application of the epoxy grout. After the curing period, which is typically 48hrs, there is usually a need to top up the area where the epoxy has been applied to bring it back to level with the original slab.
Concrete Cutting & Coring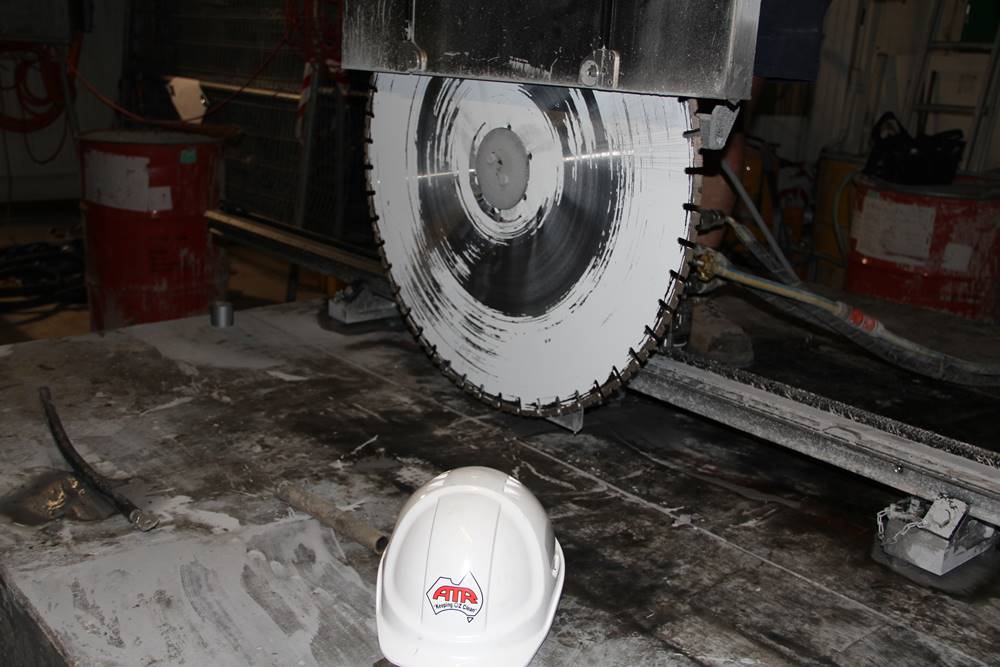 ATR provides a range of cutting & coring services to complement our demolition services. For larger or more complex cutting &/or coring requirements, we rely on our long-term specialist contractors. Please refer to our trusted partners for further information. We're able to provide the following services:
Coring Services
Remediation Works
A common requirement of our demolition & civil projects is the need to provide remediation & rehabilitation works. ATR has the capabilities & expertise to deliver these services separately or as part of the overall project specification.