Asbestos Demolition & Asbestos Removal Services in Sydney
ATR is a long established, reputable asbestos removal company that prides itself on its experience & commitment to safety. ATR is a fully licensed & insured bonded asbestos removal company accredited to AS/NZS 4801 – Safety, ISO 9001 – Quality & ISO 14001 – Environment. Although we are not licensed Friable Asbestos removalists Sydney, we are happy to recommend other professional contractors in the Sydney area.
If you are unsure if you have an asbestos product or what asbestos removal services, if any, you may require then we always offer free advice over the phone or email. When it's possible to do just email a photo to info@atr.com.au & it may end up saving you money. 
ATR offers the following asbestos removal services: 
Our staff are highly trained asbestos removal Sydney specialists supported by an award winning WHS Management System & an externally accredited Integrated Management System (IMS). This means you can rest assured your asbestos removal Sydney project will be handled safely & efficiently by professional asbestos removalist contractors.
Asbestos Pick-Up
Along with our other asbestos disposal services, ATR also offers a pick up & asbestos disposal Sydney service for asbestos that has already been removed. There are 2 ways in which we can collect the asbestos waste
Unwrapped; or
Fully wrapped
If you or your contractor would like to prepare the asbestos for disposal, please ensure the asbestos is correctly bagged or wrapped for disposal. To correctly dispose of bonded asbestos, it must be:
When asbestos is handled or removed it must be wetted/dampened to ensure the asbestos fibres cannot become airborne.
Double wrapped or bagged in 200μm (micron) thick plastic ensuring it is completely airtight & sealed (be cautious of sharp edges that can pierce the plastic).
Wet the exterior of the plastic to suppress any fibres on the outside.
Be manageable for a 1 man lift (approx. 20-25kgs)
If you prefer, we can take care of the wrapping, please ensure the asbestos is stabilised. This requires the asbestos to remain damp & completely covered in plastic to minimise the chance of the asbestos fibres becoming airborne.
Asbestos Demolition
Under the current Workplace Health & Safety Act 2011, an appropriately licensed asbestos removalist Sydney must be engaged to carry out non-friable (bonded) asbestos removal work if the quantity to be removed is more than 10m2.
ATR has been safely removing asbestos containing material (ACM) all over NSW for over 20 years specialising in the removal of non-friable asbestos containing material from homes & workplaces.
Our staff are highly trained asbestos removal specialists in Sydney supported by an award winning WHS Management System. This means you can rest assured your asbestos removal Sydney project will be handled safely & efficiently by professional asbestos removalist contractors.
Not only can we safely remove your asbestos material but we are also licensed demolishers that can demolish the entire structure or provide detailed demolition for part of the structure. Refer to our demolition service webpage for more information.
The most common uses of Asbestos Containing Materials (ACM's) in the home or workplace include:
Many purpose-built structures such as garages, sheds, external laundries & toilets
Roofing
Cladding
Eaves linings
Fencing
Wet areas (bathroom & laundry)
Kitchens
Vinyl tiles
Formwork for concrete paths & slabs
Sparrow Picking
Sparrow picking is simply the process of removing any loose & broken pieces of ACM (asbestos containing material) from the surface of a given area. It's typical to perform this type of work when there has been an illegal dumping or a broken asbestos sheet sitting on top of an area of dirt or grass.
Excavation
ATR can provide the necessary plant & equipment to excavate any soils contaminated with asbestos. Asbestos in soil requires a comprehensive hygienist report to identify if it is bonded or friable & to also identify if there are any other contaminants in that soil (such as leads or petrochemicals).
If required, these work areas can be remediated, bringing it back to pre-excavation levels with clean, validated soils.
Vacuuming & Sealing
ATR provide trained & competent staff when there is a need to clean up dust containing asbestos. It is not a common request but is done from time to time & may be a result of some damaged asbestos sheets that have crumbled on to a hard surface below. Often it's mentioned in a hygienist's report & may also require the broken/damaged edges of any sheets to be painted or glued to prevent any further asbestos contamination in that area.
Larger areas, such as roof cavities, require an industrial vacuum & we are able to offer free advice should you require this asbestos disposal Sydney service.
Asbestos Clearance Certificate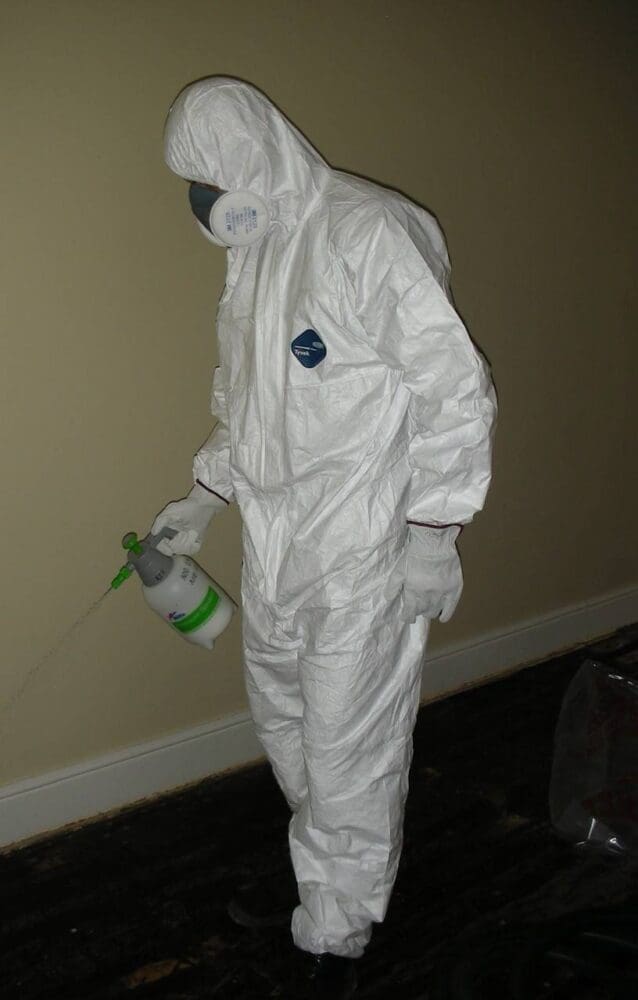 When bonded asbestos is removed & the removed area is greater than 10m2, an asbestos clearance certificate is required by law as evidence the area is no longer contaminated. This certificate is to be provided by a 3rd party (not the licensed contractor), usually a registered hygienist, who is responsible for providing written verification that the work was satisfactorily completed & that the area is safe to occupy. It is not required by law for work for that is less than 10m2 in area should be considered to ensure safety. ATR are happy to provide any asbestos removal advice on this or you can go to the SafeWork NSW website https://www.safework.nsw.gov.au/hazards-a-z/asbestos for further information.
Asbestos Air Monitoring
Air Monitoring is required at all times for friable asbestos removal Sydney & although recommended for bonded asbestos removal Sydney, it's not mandatory. On some bonded asbestos removal projects it may be necessary to conduct air monitoring to ensure public safety.A few examples are when works are performed in sensitive areas like schools, hospitals & public places. Sampling for airborne asbestos fibres is carried out to assess the asbestos health risk associated with the presence of atmospheric asbestos fibres. These samples are then analysed at a NATA accredited laboratory.
ATR can organise several types of air monitoring including:
Background air monitoring – assess the presence of asbestos fibres prior to the removal of asbestos
Exposure monitoring – sampling exposure to asbestos fibres in a person's breathing zone
Control monitoring –

Air monitoring carried out in the areas surrounding any asbestos

disposal Sydney

project. Used to verify the effectiveness of the engineering controls implemented to ensure that no asbestos fibres escape the asbestos removal zone
Whatever your air monitoring requirements, ATR has the solution.
Asbestos Sampling & Analysis
With many building products from the past containing asbestos, it can sometimes be difficult to identify asbestos containing material with certainty.
ATR is able to offer competitive sampling & asbestos inspection services to identify the presence of asbestos containing materials (ACM). Depending on the availability of accurate information, there are 2 options for identifying ACM.
Firstly, the only certain way to determine if a product contains asbestos is to have a sample tested & analysed in a NATA accredited laboratory.
Another way to determine if asbestos is present in a home or workplace, is by having a competent person inspect the premises where they will look for several key factors to indicate the likelihood of asbestos being present. These main factors are:
The age of the structure – the vast majority of homes built from 1944 up to the late 1970's (up to 2/3 of all homes!) used asbestos building products.
The date of any renovations – manufacturing of building products containing asbestos were phased out during the 1980's but surviving stock may have been used even into the 1990's.
The product itself – some building products are known to contain asbestos & are easily & accurately identified.
By talking with one of our consultants, we can recommend a suitable course of action.
Asbestos Register & Management Plans
As a result of the changes made under the Workplace Health & Safety Act & Regulations (2011), all workplaces in NSW are required to have an up to date (and reviewed every 12 months) asbestos register that contains information relating to:
Identifying asbestos containing materials within the workplace
Assessing the risk to health for each asbestos instance identified
Recommending measures to control the risk to health if required
ATR can provide professional services to inspect workplaces & establish or update asbestos registers & Asbestos Management Plans.
An asbestos register is a document which contains information on Asbestos Containing Material (ACM) within a building that is likely to contain asbestos & must be held onsite for buildings that contain asbestos to comply with NSW SafeWork requirements. The person with management or control of a workplace must ensure an asbestos register is prepared and kept at the workplace.
An asbestos management plan must be developed where asbestos has been identified or is likely to be present at the workplace. The asbestos management plan is to be readily accessible to workers, health and safety representatives, other PCBUs and SafeWork NSW.
The asbestos management plan must include:
The identification of asbestos or ACM
Decisions and reasons for decisions about the management of asbestos
Procedures for dealing with incidents or emergencies
Workers carrying out work involving asbestos.
It is to be reviewed when there is a:
Change in the control measure
If the asbestos is removed or disturbed
When the plan is no longer adequate
When a health and safety representative request a review,
Every five years
The purpose of an asbestos register is for identification of asbestos & involves a combination of visual inspection of the accessible areas of the building & the collection materials suspected of containing asbestos for testing. The suspected asbestos samples are then tested by a NATA accredited laboratory.
The asbestos register must:
record any asbestos that has been identified or is assumed to be present at the workplace
record the date when the asbestos was identified
record the location, type and condition of the asbestos
be maintained to ensure up-to-date information
state if no asbestos has been identified
be given to the person conducting a business or undertaking (PCBU) when there is a change of management or controller of the workplace.
Asbestos must be labelled, where possible. For example, a label can be placed in the electrical meter box indicating that the building contains asbestos and the location of the register. Photographs or drawings are also useful for showing the location of asbestos in the workplace.
Common Areas To Find Asbestos
Asbestos in homes with a tiled roof
Asbestos in commercial buildings
Asbestos Information